Teak root tree dining table with round 
180cm

wide tempered safety glass top
75cm tall

With protective coating on root for minimal maintenance

Specification
Glass Type; 10mm Tempered Glass
Weight 100 kg
Dimensions 180 × 180 × 76 cm
Material Root Wood, Teak
Seating Capacity 8
Shape Round
handmade  in indonesia


Key Features

✓ High Quality; The quality of our teak root dining table is remarkable. The glass and root combination is just what you need to add vibrance to your home..
✓ Large Size; Standing up tall at 76 cm and 180 cm wide, this teak root dining table  is more than able to meet your daily needs.
✓ Protective Layer; Our tables has been professionally coated to give it a protective layer. This will ensure your table lasts a lifetime.
✓ Stable; Our dining table is well designed and very stable at the base.
✓ Beautiful Design; Our highly professional craftsmen have preserved the natural look of the roots whilst transforming it into a luxurious piece of furniture.
please note: you will not be receiving the exact  one in the picture  these teak root tables are unique and individually handmade and will be the same "specification"  however each piece is slightly different.
"sorry we cannot send pictures as the items are pre packaged in indonesia 
 please  also take look at
Teak Root Coffee Table – 60 cm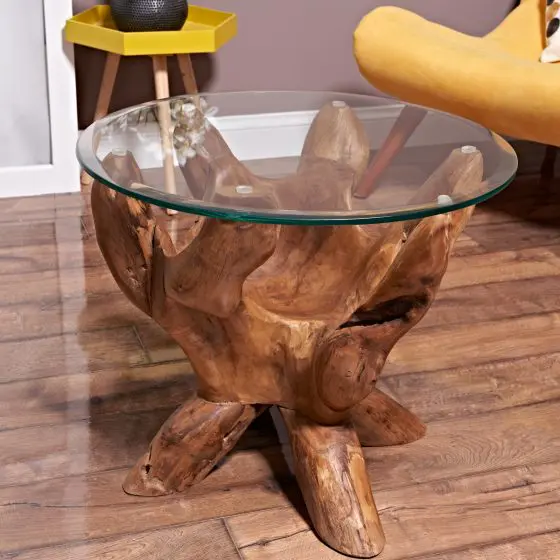 Free 2 Person Delivery.  
We use this delivery method for larger items of furniture (Teak garden chairs, dining tables,
rattan garden furniture, large tables, etc. So you can be rest assured your delivery will take place carefully and on time.
What areas do we deliver to?
We only deliver to mainland addresses in England, Wales & Southern Scotland. As indicated in green on the delivery zone map. We do not deliver to North Scotland or any off-shore islands. If you require delivery to an address outside of our delivery zone then please email us and we will do our best to advise an alternative delivery option.
"This is the list of postcodes that are excluded from our Delivery Zone…..
AB10, AB11, AB12, AB13, AB14, AB15, AB16, AB21, AB22, AB23, AB24, AB25, AB30, AB31, AB32, AB33, AB34, AB35, AB36, AB37, AB38, AB39, AB41, AB42, AB43, AB44, AB45, AB51, AB52, AB53, AB54, AB55, AB56,
BT1, BT2, BT3, BT4, BT5, BT6, BT7, BT8, BT9, BT10, BT11, BT12, BT13, BT14, BT15, BT16, BT17, BT18, BT19, BT20, BT21, BT22, BT23, BT24, BT25, BT26, BT27, BT28, BT29, BT30, BT31, BT32, BT33, BT34, BT35, BT36, BT37, BT38, BT39, BT40, BT41, BT42, BT43, BT44, BT45, BT46, BT47, BT48, BT49, BT51, BT52, BT53, BT54, BT55, BT56, BT57, BT60, BT61, BT62, BT63, BT64, BT65, BT66, BT67, BT68, BT69, BT70, BT71, BT74, BT75, BT76, BT77, BT78, BT79, BT80, BT81, BT82, BT92, BT93, BT94,
FK17, FK18, FK19, FK20, FK21,
G83, G84,
GY1, GY2, GY3, GY4, GY5, GY6, GY7, GY8, GY9, GY10,
HS1, HS2, HS3, HS4, HS5, HS6, HS7, HS8, HS9,
IM1, IM2, IM3, IM4, IM5, IM6, IM7, IM8, IM9, IM99,
IV1, IV2, IV3, IV4, IV5, IV6, IV7, IV8, IV9, IV10, IV11, IV12, IV13, IV14, IV15, IV16, IV17, IV18, IV19, IV20, IV21, IV22, IV23, IV24, IV25, IV26, IV27, IV28, IV30, IV31, IV32, IV34, IV36, IV40, IV41, IV42, IV43, IV44, IV45, IV46, IV47, IV48, IV49, IV51, IV52, IV53, IV54, IV55, IV56, IV63, IV99,
JE1, JE2, JE3, JE4,J E5,
KA27, KA28,
KW1, KW2, KW3, KW5, KW6, KW7, KW8, KW9, KW10, KW11, KW12, KW13, KW14, KW15, KW16, KW17,
PA20, PA21, PA22, PA23, PA24, PA25, PA26, PA27, PA28, PA29, PA30, PA31, PA32, PA33, PA34, PA35, PA36, PA37, PA38, PA41, PA42, PA43,  PA44, PA45, PA46, PA47, PA48, PA49, PA60, PA61, PA62, PA63, PA64, PA65, PA66, PA67, PA68, PA69, PA70, PA71, PA72, PA73, PA74, PA75, PA76, PA77, PA78, PA80,
PH30, PH31, PH32, PH33, PH34, PH35, PH36, PH37, PH38, PH39, PH40, PH41, PH42, PH43, PH44, PH49, PH50, PH6,
PO30, PO31, PO32, PO33, PO34, PO35, PO36, PO37, PO38, PO39, PO40, PO41,
ZE1, ZE2, ZE3
Frequently Asked Delivery Questions
"Do you deliver outside of the UK?
Sorry but we do not deliver overseas
We only deliver to mainland England, Wales, or Southern Scotland, if you want to arrange your own shipping that's fine
If you require any advice on shipping we will do our best to advise you.
"Can I collect my order my self ?
Yes you can collect your order from our warehouse . If wanting to collect your order then please Email us to arrange the collection date and time so we can have your order ready for you The person that placed the order must collect the order and provide identification.
"Can I send a courier to collect my order?
We always prefer to deliver our furniture ourselves that way we can guarantee a safe delivery However if you want to send an external courier you must pay for your order first
Then please Email us to arrange the collection date and time
"Can you unbox, assemble my furniture and take away the packaging ?
No due to health and safety /covid19 we no longer offer these services.
The free 2 person delivery service is delivery to your home or garden only.
"Is delivery always free?
Yes delivery is always free for our standard 2 person delivery service.