Teak root coffee table round
100cm glass top
Coffee table made with a precious solid Teak wood root varnished with a natural effect and with a tempered glass top.
Root: 45 cm tall 100cm wide
Style: Organic natural design
Base material: Teak base
Design: Round
Protective: Coating on root
Teak wood is one of the most appreciated, it is difficult to find woods that offer similar durability.
If you are looking for a natural and authentic atmosphere for your home, the best way to choose spaces in which you feel comfortable is to flee from the artificial and choose this type of furniture to discover the true essence of nature.
Integrating nature into our home is a new decorative trend that has come to stay. Colourless varnish finish.
Decorate your home with an attractive rustic coffee table.
The rustic style is dominated by the wood, the aged finishes and the robust appearance. That carries over to these teak root coffee tables, made with natural materials and that always fit perfectly into a classic decorative.
Teak root wood is a natural material very resistant to both weather and insects, this natural durability makes teak ideal for both indoor and outdoor use. When polished, the teak turns a buttery golden color.
If placed outdoors and exposed to the elements, over time the teak wood surface turns a beautiful shade of silver gray.
The teak roots used by us are taken advantage of by excavating the soil and due to their thickness they must go through a drying phase that can last more than a year.
Eye-catching and Eco-friendly, teak root furniture gets its whimsical look from its roots' own wild and twisted features. Carved and formed from a single piece of whole teak root, the organic shape of teak is preserved and displayed to create unique and eye-catching furniture.
Teak roots are not only used to create stunning tables. Local artisans also take advantage of this organic teak wood to sculpt beautiful household items such as teak fruit bowl reclaimed teak, trays, sculptures.
Would you like to have a unique piece of teak root? In our collection we usually have a range of wonderful designs including dining tables, chairs or coffee tables. Visit our store and explore our collection of teak furniture.
please note: you will not be receiving the exact  one in the picture  these teak root tables are unique and individually handmade and will be of the same "specification"  however each piece is slightly different.
"sorry we cannot send pictures as the items are pre packaged in indonesia
Free 2 Person Delivery.  
We use this delivery method for larger items of furniture (Teak garden chairs, tables,
rattan garden furniture, Dining tables, etc. So you can be rest assured your delivery will take place carefully and on time.
DELIVERY: is approximately 10 working days
"What areas do we deliver to?
We do deliver to all the ares on the map  mainland addresses in England, Wales & Southern Scotland. Are free delivery As indicated in red on the delivery zone map. We do deliver to North Scotland, northern Ireland,  and ALL off-shore islands LIKE:  ISLE OF WIGHT, ISLE OF MAN, ect at a flat rate.
"This is the list of postcodes in grey that are included in our Delivery Zones…..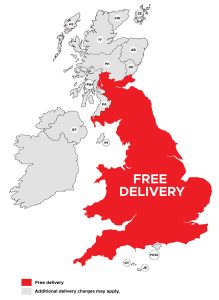 Frequently Asked Delivery Questions
"Do you deliver outside of the UK?
Sorry we do not deliver overseas at the moment ONLY SOUTHERN IRELAND ,
"Is there import tax from UK to southern Ireland?
yes as Southern Ireland Is Part Of The Eu This means you THE BUYER will be responsible to pay customs duty on items bought online in the UK and delivered to southern Ireland. You may have to pay VAT please Find out what VAT and import charges you will have to pay before ordering from a this UK site.
"Can I arrange my own shipping ?
If you want to arrange your own shipping that's fine if you require any advice on shipping we will do our best to advise you.
"Can I collect my order my self ?
Yes you can collect your order from our warehouse . If wanting to collect your order then please Email us to arrange the collection date and time so we can have your order ready for you The person that placed the order must collect the order and provide identification.
"Can I send a courier to collect my order?
We always prefer to deliver our furniture ourselves that way we can guarantee a safe delivery However if you want to send an external courier you must pay for your order first
Then please Email us to arrange the collection date and time
"Can you unbox, assemble my furniture and take away the packaging ?
No due to health and safety /covid19 we no longer offer these services.