Ceramic Extending Dining Table White
Extending ceramic dining table in a modern white colour.
Benefits of Ceramic Tables
It's modern, stylish- & unique sleek design looks great in any home of the modern family.
Ceramic surfaces are very durable and scratch resistant, they will not dent easily; nor will it stain so you no longer need to worry about those red wine spills.
Ceramic table tops can also withstand extremely hot temperatures, you can put a hot item straight on the ceramic table top without a worry.
Extending dining table 180-260 cm long and 90cm wide with powder coated metal legs for durability.
Ceramic  Tile Table Top 12mm Thick This Is Scratch Heat And Impact Resistant with slide and lock Heavy Duty Side Extenders weight tested up to 40kg The Table Frame And Legs Are Powder Coated matt Charcoal Black.  
Table dimensions:  180-260cm Long X 90cm Wide 
DELIVERY:
"The 2 Person Delivery.
We use this delivery method for larger items of furniture like (Teak garden furniture chairs, tables, rattan garden furniture, ceramic Dining tables, etc. So you can be rest assured your delivery will take place carefully and on time.
"What areas do we deliver to?
We do deliver to all the ares on the map  mainland addresses in England, Wales & Southern Scotland. Are free delivery As indicated in red on the delivery zone map. We do deliver to North Scotland, northern Ireland,  and ALL off-shore islands LIKE:  ISLE OF WIGHT, ISLE OF MAN, ect at a flat rate.
"This is the list of postcodes in  grey that are included in our Delivery Zones….. 
 DELIVERY MAP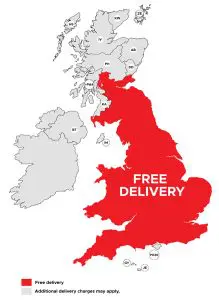 Frequently Asked Delivery Questions
"Do you deliver outside of the UK?
Sorry we do not deliver overseas at the moment ONLY SOUTHERN IRELAND ,
"Is there import tax from UK to southern Ireland?
yes as Southern Ireland Is Part Of The Eu This means you THE BUYER will be responsible to pay customs duty on items bought online in the UK and delivered to southern Ireland. You may have to pay VAT please Find out what VAT and import charges you will have to pay before ordering from a this UK site.
"Can I arrange my own shipping ?
If you want to arrange your own shipping that's fine if you require any advice on shipping we will do our best to advise you.
"Can I collect my order my self ?
Yes you can collect your order from our warehouse . If wanting to collect your order then please Email us to arrange the collection date and time so we can have your order ready for you The person that placed the order must collect the order and provide identification.
"Can I send a courier to collect my order?
We always prefer to deliver our furniture ourselves that way we can guarantee a safe delivery However if you want to send an external courier you must pay for your order first
Then please Email us to arrange the collection date and time
"Can you unbox, assemble my furniture and take away the packaging ?
No due to health and safety /covid19 we no longer offer these services.